Thurgood Marshall: The Supreme Court Rules on "Separate but Equal"
A Graphic History of the Civil Rights Movement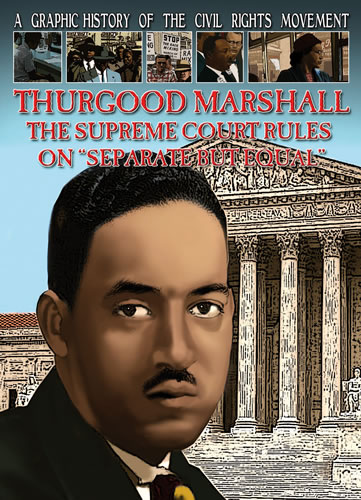 In a landmark case known as Brown v. Board of Education, the US Supreme Court changed American society forever when it ruled that school segregation was unconstitutional. This exciting graphic novel intertwines two tales to illuminate events leading up to this dramatic episode in US history. One is the story of African Americans' long struggle for equal rights following the Civil War. The other is the account of the personal struggles and triumphs of Thurgood Marshall, the African American lawyer who argued the case before the Supreme Court. Accessible text and lively illustrations engage readers and help them experience the drama of events as if they were there.
* Reviews *
Series review: A Graphic History of the Civil Rights Movement Focusing on action and drama, these titles highlight the lives of Civil Rights heroes. The author makes effective use of the graphic-novel format. The texts of the comic-style sections are easy to follow. these titles offer an exciting look at important history in an appealing format.School Library Journal
Level
Points
3
6