Are There Other Earths?
Space Mysteries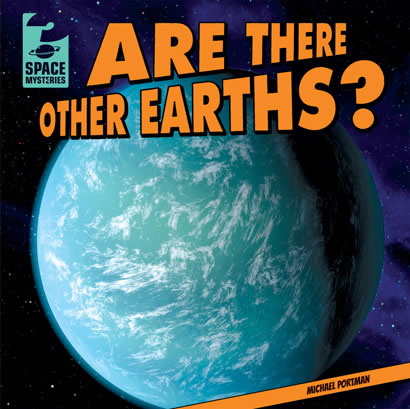 Readers will find out about the other planets that scientists have discovered through accessible text, fun fact boxes, and amazing photographs. They will be introduced to amazing scientific tools including the Kepler telescope, which has assisted in locating many planets outside of our solar system. The question of other planets sustaining life, as it is on earth, has been plaguing scientists and curious minds for some time. Along with fuel scientists, readers will speculate whether there are habitable planets and if people could move to them or not.
* Reviews *
Book Review: Are There Other Earths?The short answer: Who knows? There are very few possibilities, most of them discovered by the Kepler space telescope, but that bummer doesnt come until the end of this useful entry into the Space Mysteries series. Before Portman tackles the title question, 13 two-page chapters race through the basics of galaxies, stars, suns, solar systems, planets, orbits, and the all-important Goldilocks zonethat sweet spot where life as we know it can exist. A well-chosen mix of diagrams and photos (one stunner collects nine shots of Venus, a tiny black dot, crossing in front of the sun) plays within a comic bookstyle design. Meanwhile, explosion-shaped sidebars take macro facts and make them micro. As Carl Sagan might have said, there are billions and billions of space series, but this one finds a fresh, investigative angle.
Daniel Kraus, Booklist