20 Fun Facts About Lionfish
Fun Fact File: Fierce Fish!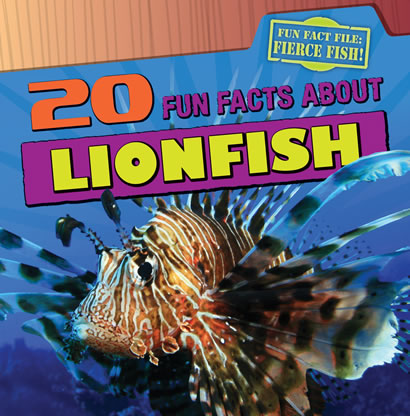 The lionfish is one of the most colorful fish in the sea. It has zebra stripes and beautiful fins. However, the lionfish's looks aren't just for show. They tell predators to stay away. The lionfish might be pretty, but it's also deadly. Numerous dazzling photographs of lionfish in their natural habitat help make this book of fun facts informative and interesting for all readers.
* Reviews *
Series Review: Fun Fact File: Fierce Fish!With graphics designed to look like file folders, these volumes present fascinating fish facts in concise but detailed chapters Colorful, action-filled photos and captions that resemble Post-It notes clarify and add additional information, as do charts listing data about the featured fish or their friends. the series is well suited for reports, and its fearsome covers and chatty tone gives it lots of browser appeal.School Library JournalSeries Review: Fun Fact File: Fierce Fish! The Fun Fact File: Fierce Fish! series may be hard to say but its easy to read and pitched just right for reluctant readers. Essentially, its a randomly arranged, numbered list beefed up with additional facts, an arrangement ideal for browsers. The one-fact-per-page formula keeps things briska table breaking down the various names, locations, and sizes of each fish serves as an intermissionand every spread is enlivened by underwater photos and fun-fact captions. Basic but snappy, these are good pit stops for first-time report writers.Booklist